Onion Focaccia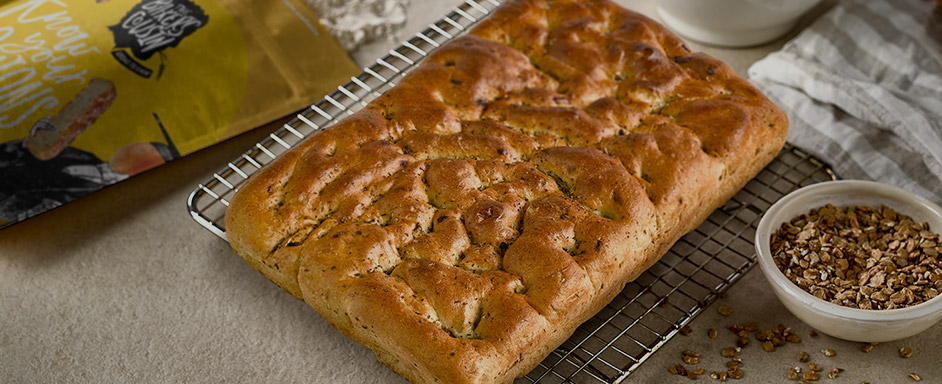 Did you know that Focaccia is a flatbread that originates from the shores of the Mediterranean? It's loved in Italy and abroad and is actually an early prototype of modern pizza. A tasty historical treat for you there! So experiment and get creative – add a twist with your favourite toppings, herbs and flavours. You'll get to know delicious with our Know Your Onions mix.
In a bowl add bread mix, yeast and tepid water. Mix to form a soft dough, ensuring no dry lumps remain. Leave to rest for about 7 minutes.

Tip:
Use a food mixer to combine ingredients and knead the dough.

Knead for 3 minutes, mould into a ball then leave to rest for 7 minutes.

Repeat step 2 once more before placing the dough in an oiled baking tray.

Tip:
Instead of flouring your work surface try using floury hands. Keep hand-dough contact as fleeting as possible, this will help prevent any sticky problems.

Coat a non-stick baking pan (approximately 30cm square) with olive oil and spread out the dough evenly to the sides with oiled fingertips. Push your fingertips into the dough until its entire surface is dimpled – this will form little pockets for the oil to sit in.

Leave the dough to rise for an hour and then add any extra toppings such as olives, cheese or herbs. Give the dough another dimpling with your fingertips to push the toppings in and lightly drizzle with more olive oil.

Leave to rise for another hour or until fully risen and then bake in a preheated oven at 210°C for 15 to 20 minutes or until the crust is golden brown and crispy.
Serve hot or cold.