Equipment
Having the right baking equipment is a must. So have a read of these tips on the basic tools and bread machines you'll need before getting started.
Basic Tools

Kitchen Scale
Precision is key, and nothing will be more accurate than using digital scales. Choose a set of kitchen scales that can measure to 1g.
Dough Scraper
A metal or flexible plastic scraper is good for cleaning your work surface and your hands It's like an extension of the baker. 'Edward Dough Scraper Hands', if you like.
Flexible Spatula
This is the perfect tool to claim every last bit of dough from your mixing bowl. (Hey, it's too good to waste, right?) You can also use it to push your baking creations downwards inside a baking tray of your choice. Very handy.
Bread Knife
A good bread knife is a no-brainer for every home. It will help you cut neat slices and save you hacking away at your loving creation. It's all in the presentation, isn't it?
Wire Cooling Rack
It may not be the most exciting piece of equipment you ever buy, but a cooling rack is essential for cooling bread. Because no-on wants a soggy bottom.
Baking Tray
Baking trays are found in every kitchen. They can be metal, tempered glass, ceramic or silicone. If you've got the baking bug, consider investing in some sturdier trays and pans that will last for many baking years to come.
Pizza Stone
A pizza stone holds heat more evenly than a metal baking tray. The preheated stone gives the dough a burst of initial heat, which puffs up the crust. Delicious.
Cast Iron Dish
A cast iron casserole dish is a great cost-efficient option for bakers. It can be used for multiple dishes and also for hob and oven cooking. You can really get your money's worth.
Bread Machines
Bread machines (or bread makers) tend to perform best on shorter programmes (but not the rapid setting) so you may need a few attempts to find the one that works best on your machine. The machines can vary enormously in their recipe programmes and the quality of the bread that they make and it pays to do some research before buying one. Some of those that we tested produced squat, solid loaves whilst others produced light airy loaves twice the size and regardless of which setting was used.
As good as bread machines are at mixing and kneading, they are obviously a little limiting when it comes to creating anything other than a square loaf with a hole in the bottom. To get the best of both, try using the mix programme, shaping by hand and baking in your oven. When the programme ends always remove the bread from the pan straight away and leave to cool on a wire rack.
Knead to Know
Baking isn't difficult. It just requires precise measurements, great ingredients, the right cooking temperatures, and good techniques!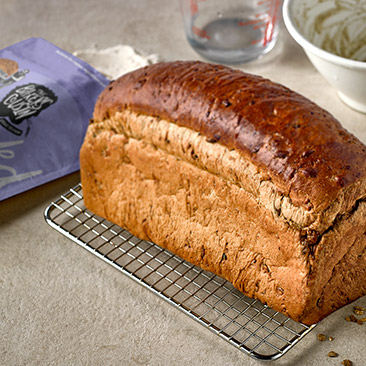 Dough Diagnosis
The process of making bread can be very therapeutic when all goes to plan, but when it doesn't, don't fret.