Our Ingredients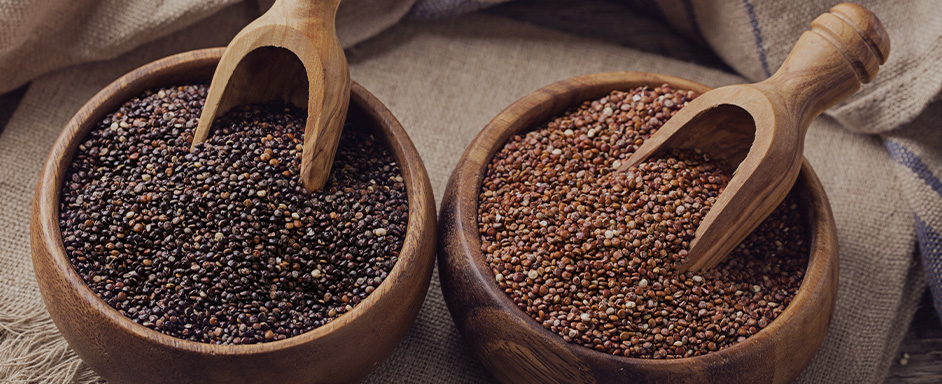 We source the highest-quality raw materials and process them into the finest bread mixes and flours to help you achieve perfection in your baking goods. Natural, nutritious and wholesome, our ingredients come with functional benefits and a great taste. What's not to like?
White and Wholemeal Wheat Flours
In the UK, white flour has to be fortified by law (UK millers have to add iron, calcium, niacin and thiamine). This legislation goes back to the Second World War, and you can see why they've kept it up – it's good for you.
Going back to Roman times, bread quality was linked with flour purity - the grain was milled into flour and the bran then sieved out. The fewer specks of bran in the flour, the whiter the loaf. This purity is still used to describe flour quality, particularly in continental Europe, where you will see flour graded by its ash or mineral content.
The reason this test is not used in the UK is because the minerals (iron and calcium) that are added to our white flours make the test ineffective. Breadmaking flours in the UK are more usually graded by their protein content.
The quality of flour can't be taken for granted though, particularly if it's bought from smaller mills. There's loads more to making good quality flour than grinding wheat into a powder. Many smaller mills are able to select specific wheat varieties from local growers which can have a positive influence on bread flavour, with the added satisfaction that comes from using local raw materials.
A small miller's reliance on one source of wheat, however, means that flour quality is subject to local harvest conditions so flour quality may vary each year. At the other end of the scale, larger mills may be using more generic wheat varieties which will be blended from a wider catchment area. Some experts believe this means their flours can have less character than those from a small mill but are likely to be more consistent in bread making quality.
There are two types of processes commonly used to mill wheat into flour. Roller-milling processes are primarily designed to separate the brown, branny components of the grain from the white endosperm to make white refined flour. (To make wholemeal flour, selected bran fractions are added back after milling.) Stone milling, on the other hand, is a process which produces flour in one action and usually includes 100% of the original grain. Our white and wholemeal flours are sourced from UK flour millers who are mainly local. Very often, they're also both our suppliers and customers – which is a good sign if ever we've heard one.
Rye Flours
Wheat flour, especially its gluten-forming proteins, make it unique in its ability to produce bread as we know it. However, rye flour also has a tradition in bread making, particularly with sourdough. On its own, rye can be used to make bread, but it results in a densely textured loaf compared to bread made from wheat. Combine it with wheat flour though, and rye flour can add a further flavour dimension whilst still retaining some its 'soft eating' qualities. Yum.
Our rye flours are available as refined flour (with most of the bran removed) and wholemeal flour (with all the bran and goodness). We mill our flours on-site in our milling department using rye seed sourced from local farmers.
Barley Malt Flours and Flakes
Malt is a commonly used ingredient in most European breads. The malting process includes grain steeping, germinating and kilning (the grains used in our recipes have been kilned or roasted at high temperatures to provide the flavour and colour in our breads). It all begins with the grain being steeped in water to kick-start the biological process of germination – it begins to sprout and is allowed to grow for several days. Once this has been achieved, the malt is kiln-dried to stabilise it for long-term storage. Sometimes a roasting process is called for instead of kilning which can produce very intense flavours and colours. There's a load more we could tell you about malt and malting, but we need to move on. However, follow us on social media to learn more!
Malt Extract
You might be familiar with malt extract as a 'health food' but did you know it was widely used in previous generations to supplement meagre diets? It's a treacle-like substance that's created through a natural process. Starting with malted grain that's milled into fine particles and mixed in hot water to create a thick solution (called wort). This is then filtered, and evaporated to remove the water content, leaving behind a thick syrup substance: liquid extract (this can also be dried to produce a powdered extract alternative). Liquid extract is a natural sweetener with substance that doesn't contain fructose like added refined sugars. It's also a rich source of soluble fibre, and contains vitamins B2, B3 and B6, as well as iron, calcium and potassium (again, no added refined sugars contain these nutrients). But not only is malt extract good for you, it's also a versatile ingredient that works wonders in many products and recipes – including beer (hic).
Grains
Rye is a whole grain with a long history but humble beginnings. Originally a weed found sprouting in wheat and barley fields, its hardy nature led to its cultivation as an essential nutrient for those living in cold, damp environments where other cereal crops failed. Today, the main producers of rye are Germany, Russia and Poland. At The Baker's Cousin we stay true to our roots by only using rye sourced from local farmers.
Oats are a whole grain food mainly grown in Europe and North America. They're an excellent source of fibre, especially beta glucan, and are high in vitamins, minerals and antioxidants. In recent years, oats' numerous health benefits have increased their popularity. Oats are most commonly used in porridge, muesli and granola but are also used in baking. This amazing grain is grown for us locally.
Spelt is a nutty-flavoured ancient grain, dating back at least 9,000 years. A predecessor of wheat, spelt is classed as an 'ancient grain' because it remains unchanged by modern plant breeding. Nutrition has a part to play in the growth of the use of spelt. Compared to wheat it's higher in fibre and contains a significant amount of minerals such as manganese, zinc and iron. It originates from Central Europe, where it's still very popular but is now also grown here in the UK. So once again we work with local farmers to source the nutritious grain for our mixes.
Quinoa (pronounced 'keen-wah' in case you're not sure) is one of the six pseudo grains. It's not part of the cereal family but is generally treated like a cereal grain because it's so similar nutritionally and used in food like other cereal grains. Quinoa one of the few foods to contain all 9 essential amino acids, making it highly nutritious. It's also packed with protein, vitamins and minerals and fibre and is naturally gluten free. Can't go wrong, really.
Buckwheat is not wheat or a cereal, but in fact a flowering plant from the same family as rhubarb and sorrel. First cultivated thousands of years ago, it's used across the world for creating crepes, noodles, groats, broth, soups, tea, and even a Japanese spirit. But it's buckwheat's recent popularity in the healthy-eating market that makes it a must-try. Why's it healthy? That'll be the high content of protein, and minerals and vitamins including magnesium, iron, zinc, niacin, riboflavin and Vitamin B6.
Seeds
Sunflower seeds are the fruit of a, wait for it… sunflower. They're commonly used for bird feed, cooking oil and as a health food. The seed is a particularly popular snack in Eastern Europe – with Ukraine being the biggest global producer. In terms of health benefits, sunflower seeds stand out for containing high levels of magnesium, iron and zinc, but also healthy levels of fats. They're a source of omega 6 - a type of polyunsaturated fat that helps to lower bad cholesterol. They have good levels of monounsaturated fat – which also helps to regulate cholesterol. And they're low in saturated fat - the bad kind that your body only needs in small quantities.
Pumpkin seeds come in two versions – white (like when carving out a pumpkin at Halloween) and green (for snacking). They're exactly the same thing, it's just the green version has had its white outer husk removed. We use the green seed in food because it's much easier to digest without the husk. Pumpkin seeds are incredibly popular, renowned for packing a nutritional punch – they're rich in protein, fibre, vitamins and minerals.
Linseeds are also known as flax seeds. An interesting fact is that they contain more than 20% protein and are loaded with nutrients such as omega 3 (which most people would more commonly associate with fish). Linseed comes in two colours, brown and yellow. Brown linseed has a slightly nuttier flavour, but aside from the flavour, the colour has no bearing as they're both equally nutritional and digestible.
Yeast
Yeast are single-cell living organisms that convert the natural sugars present in flour, into gases to give the bread its lift. If a bread mix already has the yeast included, this can have a significant impact on the shelf life of the mix and result in reduced performance as it approaches the 'best before' date. In short, the yeast's magic power diminishes over time.
This is why we've not included yeast in our mixes. Instead you can weigh out and add your own yeast in tip-top condition. Plus the more adventurous bakers among you can try different fermentation times and use different amounts and types of yeast. Add that to your CV.
Salt
Salt is essential for providing flavour, but it also provides a very important functional role in controlling the level of fermentation. It helps keeps the yeast in check!